Click here to see WCCUSD's minutes from this meeting.
---
Welcome to
 

Board

 

Watch

 

for WCCUSD's November 1st 

Board

 

of Education meeting!

This week, our board members are being recommended to approve a contract with Public Profit for quarterly data reporting on after school programs, as well as the next three school year calendars for 2018-19, 2019-20, and 2020-21. Board members are also scheduled to hear presentations on Dual Language Immersion expansion in the district and our students' beginning of the year literacy / reading benchmark data. Lastly, the Board is scheduled to discuss a resolution on school climate and willful defiance suspensions.

Click here to see the full meeting agenda.

Consent Item D.4. Our Board of Education is being recommended to approve a contract with Public Profit to design a 1-2 page quarterly report template and data entry shell for our District to generate quarterly reports for each of the 28 Expanded Learning Programs.

DATA IN ACTION: Developing a template and infrastructure for data reporting for the district's Expanded Learning Programs is an important step forward in evaluating the impact of the resources we invest in these important after school programs. We look forward to reviewing the proposed public reports on student outcomes which will include information about the program, goals narrative, attendance data, and site visit data for the quarter. The final quarter 4 report will compare site visit scores over the course of the year.

KEY TAKEAWAY: We look forward to the district offering further details on when reporting will begin, which programs will be included in the quarterly reports, and what baseline measures and anticipated outcomes will be used to measure program progress and impact.
2. Presentation

 

on Dual Language Immersion (DLI) Background and Expansion in 2018-19
Discussion Item F.2. District staff will present to our board on current opportunities to expand Dual Language Immersion (DLI) in Spanish for the following 2018-19 school year. The scheduled discussion will focus on:
DLI program components
Data in support of DLI programs
A recommendation to implement DLI at Downer Elementary next year
DATA IN ACTION: Please read our Staff Review of the Dual Language Immersion Update.
KEY TAKEAWAY: Of the 14 categories in our rubric, this DLI report received 12 "basic" ratings and 2 "emerging". This creates an overall score of 2 out of a possible 42 and a general rating of "basic". The report lacks grounding in data, established goals and targets, or a system for monitoring and accountability. It also needs to address financial impact of programming in the short and/or long term. 
Discussion Item F.1. District staff will report to board members on the beginning of the year literacy and reading benchmark assessment data for students in 1st Grade and Grades 2-8.
Our first grade students take a reading assessment (STAR Early Literacy) three times a year (Fall, Winter, Spring), and so do our students in Grades 2-8 (STAR Reading).
DATA IN ACTION: The report highlights the following urgent trends in our students' performance:
1st Grade STAR Early Literacy
The data shows our African American and Latino students experiencing a significant achievement gap compared to their white peers. When it comes to mastering the early literacy skills needed to become a proficient reader, our Latino students are more than twice less likely (27%) to be on-track than white students (65%); African American students are nearly twice less likely (36%).
Our English Learner, low income, and special education students are also experiencing a big achievement gap (41%, 46%, and 46% respectively) in early literacy compared to white students.
Grades 2-8 STAR Reading
This school year district-wide, the data shows not one eighth grader exceeding grade level standards on this first reading assessment. 74% of eighth graders need intervention. Only 7.5% of eighth graders are meeting standards. 0% is performing above standard. Overall in Grades 2-8, we see that nearly half (49%) of our students need intervention or urgent intervention.
There is a clear and urgent trend of more students falling behind with each higher grade after Grade 4. If we intend to increase college readiness, we must identify specific and targeted literacy interventions grounded in this data, and we must begin immediately. Implementation must be regularly monitored for impact.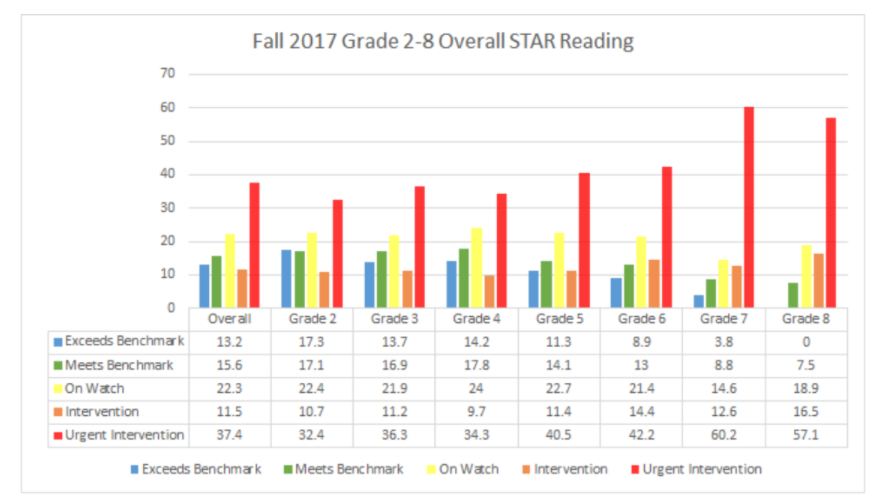 KEY TAKEAWAY: Compared with a similar report on interim literacy progress from last January 2016, this presentation marks a significant improvement in level of detail and disaggregation of data. We appreciate the increased transparency.
​With 93% of our eighth graders not being on-track in reading, we can all agree that immediate, clear, and detailed action steps are needed — our students cannot afford to wait. Currently, the learning and programming taking place in our schools is only increasing the performance gap as students get older, especially for our most underserved students.Therefore, we believe the district's report must provide a more urgent and specific conclusion and plan. If not provided on Wednesday, we would ask for a follow-up report at the next

 

board

 

meeting on specific next steps to address these data points.
4. Resolution

 

No. 49-1718: Establishment of a Positive School Climate Policy
Discussion Item F.3. Based on direction from the Board, Superintendent Duffy convened a group of stakeholders to craft a policy that eliminates willful defiance as a category for suspensions and expulsions. Willful defiance is defined as: "disrupting school activities or otherwise willfully defying the valid authority of school staff." This broad definition has included suspensions for everything from a student failing to follow directions or bring materials, to wearing a hat in class or talking back to a teacher. (Click here for more on suspensions and school climate.) During the course of this work, the working group identified several issues that need to be addressed along with the elimination of willful defiance, including law enforcement in our schools, alternative solutions, and restorative justice efforts.
The draft resolution identifies resources, establishes timelines and prescribes additional work to ensure that such a policy is successful and leads to positive outcomes for students, improves the climate and culture at schools, and has the support of teachers, parents, students and administrators.
DATA IN ACTION: The resolution shows our district taking a step forward in public accountability and transparency. It commits to a number of areas for public data reporting. Information provided in these areas will support a better understanding of student experience in our schools, lost instructional time, and alternative strategies utilized by school sites.
The resolution demonstrates a commitment to publish data on school discipline and behavioral interventions on the district's website bi‐annually (twice a year after each semester) for: (1) the district overall, and (2) disaggregated subgroups (e.g. by school, gender, age, ethnic background). Data will include the following, as excerpted from the resolution:
The aggregate (total) number of referrals, teacher, supervised in‐school, and out‐of‐school suspensions, voluntary and involuntary transfers, expulsion referrals, expulsions, and stipulated expulsions disaggregated by all subgroups, including race, ethnicity, ELL status, socioeconomic status, homeless, foster youth or probation status, and disability and by offense for the district and by school site.
The number of instructional days and ADA funding lost to suspensions, transfers, and expulsions.
Interventions and alternatives to suspension utilized by school sites, including restorative practices circles and conferences.
In reporting such data, the privacy of individual students and teachers shall be protected. Data will not be disaggregated in any manner that could reveal student identity to the public or to knowledgeable members of the school community.
The district will work with school sites to report accurate data around incidents of school discipline (traditional and/or restorative) without penalty. 
KEY TAKEAWAY: We make the following two recommendations.
Quarterly reporting, as opposed to semester reporting, would allow for shifts in programming to better meet the needs of students during the current academic year.
The timeline for reporting must be clear.

 

Data should be released within four weeks of the close of each quarter to be most actionable and impactful. For example, high school quarter one closed this past Friday, October 27th. We would expect the data to be shared publicly at the November 16th or December 6th

 

Board

 

of Education meetings. This would allow for potential interventions to be in place by the start of quarter three.
Consent Agenda Item D.6. Our board members are being requested to approve for the calendars for the next three academic years. This will allow our staff and families to plan ahead.
Highlights: The calendars are similar to the past three-year version with the changes of no school during the entire Thanksgiving Week, and the last day of school being on a Friday.